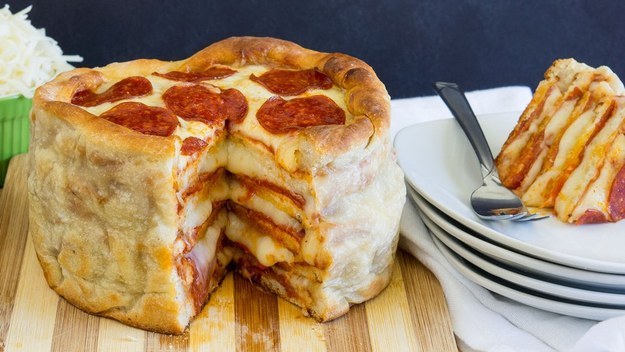 Via SoGoodBlog
Pizza Cake. Why? Because, pizza cake. Sorry, we can't seem to get our minds out of the one track thought processes it's currently going through. But who can blame us? When you combine two foods that rate as high favourites in everyone's list, you can expect a reaction such as this one.
The pizza cake craze started when a Canadian pizza chain made a version of a pizza cake. And a brave Redditor then created their own cake as well.
Well…. Here's how to make it!
RECIPE
Any supermarket or home made pizza dough will do for this one…
Roll out the dough, and cut out five circles wide enough to fit the tall cake pan you plan to use. (Two circles will be the bottom and top layers, and the remaining three will go in the middle of your pizza cake.)
Then you'll start to layer your cake with dough, pizza sauce, shredded mozzarella, and glorious pepperoni.
The top layer should have a raised crust, much like a normal pizza, because YES.
Then you bake your cake for 20-25 minutes, take it out of the oven, and weep tears of joy.